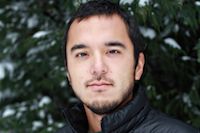 Bevan Shimizu was born and raised in Glen Echo, Maryland. He grew up in a household surrounded by plants. His father, Osamu Shimizu, has been a landscape designer for over 45 years. His mother, Holly Shimizu, was Executive Director of the United States Botanical Garden located in Washington D.C. Vacations for Bevan and his sister meant visiting Botanical Gardens, private gardens, and natural areas around the country. In time both he and his sister began to appreciate what they had taken for granted for so long.
After receiving a degree in economics from Wake Forest University, Bevan became very interested in pursuing his father's occupation. He spent a year in Japan studying Japanese gardens and learning the language. Bevan was captivated by the beauty of the architecture present in Japan. His greatest wish is to replicate many of the styles he found in Japan while staying true to his American roots. In the fall of 2008 Bevan studied at the National Tropical Botanic Garden and worked in a variety of subjects including conservation, organic farming, restoration, and bonsai. In 2013 Bevan received a Masters degree from George Washington University for a Masters of Professionalism in Sustainable Landscape Design.
Bevan worked under his father for 10 years as an apprentice learning the business and getting his hands dirty. In 2018 Osamu retired and Bevan has been running the business since then. With Japanese garden principles guiding his designs, Bevan likes to use native plants and create gardens that are equally beautiful and environmental.